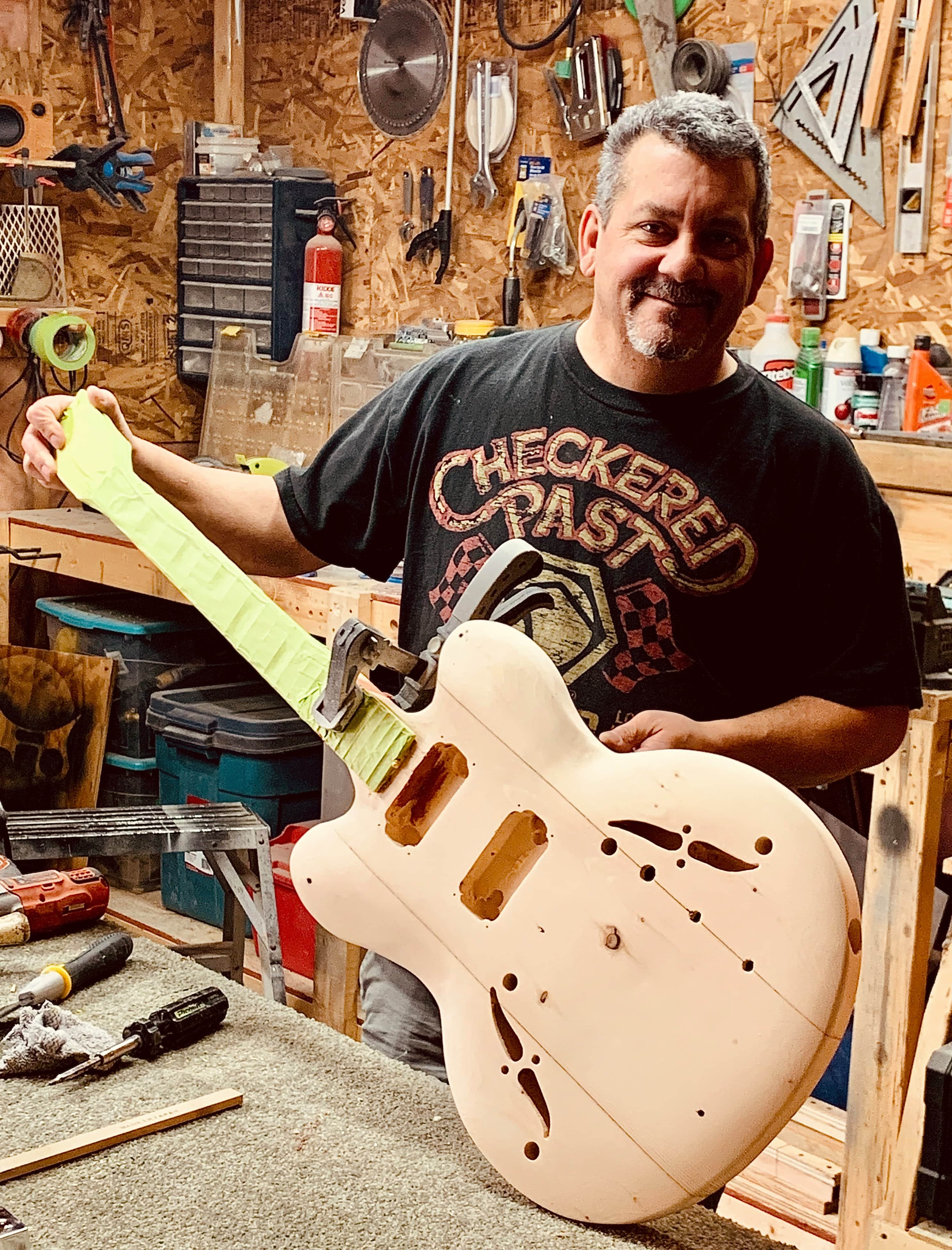 "I love antiques, vintage furniture and old machines," says Kevin Gullion the man behind The New Vintage. "You know that somebody put care into the design; it's made by hand and built to last."
"That's what I think about when I plan and build guitars," says Kevin. "My original guitar designs reflect vintage instruments. I use reclaimed wood and hardware, as well as new wood and new parts to create gear that is unique and playable. They sound great and no two are exactly alike. I also love it when my customers bring me family heirlooms, furniture or something, that I incorporate into their custom builds."
Kevin worked for decades in careers where he applied his expert mechanical skills, often building parts from scratch. He switched to building furniture to keep busy while recovering from an illness. He built one of a kind chairs and tables from wood he reclaimed from farm buildings in his home province of Alberta, Canada.
His heritage is Metis – French and Indigenous ancestry, with a rich heritage of music and musical instruments in his community and his upbringing. When Kevin was 10 years old, his parents started him on guitar lessons, and he saved up for a guitar and amp from the Eaton's catalogue. Fast forward a few decades when the inspiration to build guitars emerged from that childhood memory. Kevin had a renewed desire to play, but when he visited a music store to buy a new guitar, he was shocked at the high price and the low quality of the instruments. He thought "I can build a better one." So began his quest to build high quality one-of-a-kind New Vintage guitars.
What started as a one-off build to reclaim a piece of childhood has become a thriving passion. So far Kevin has built over 600 guitars. His high-quality New Vintage creations are in the hands of musicians all over Western Canada and beyond.